Guma' Mami's Community Homes (also known as the Mary Clare Home or the Independent Group Home) provide a family living environment, where adults share a home in the community with four peers, under the supervision of caring staff. Our Community Homes are immaculately maintained and are renowned for their homey feel and passionate staff support. Residents share in all aspects of running the home, such as cooking, cleaning and grocery shopping. Guma' Mami's Community Homes are nestled in the village of Mangilao surrounded by a number of educational institutions, restaurants and shops.
For more information please email Samuel Ilesugam at samueli@guam.net  or call 671-477-1505.   Funded in part by the DMHSA.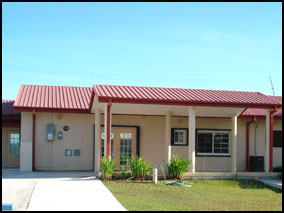 Promoting recovery, greater levels of wellness and self sufficiency.
Through our residential options, life skills training and employment supports, Guma' Mami, Inc. helps adults with disabilities to live full and meaningful lives. We work to discover strengths, and then assist individuals to realize their goals and dreams. Since our founding in 1984, family and friends  have always been cherished partners in our work. With a dedicated team of staff who are fueled by a desire to help participants reach a little farther and a little higher. We celebrate every milestone that an adult reaches, whether great or small.